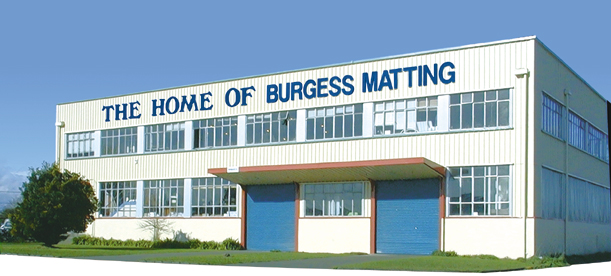 Burgess Matting & Surfacing Limited is widely recognised for the manufacture and supply of many different types of domestic, industrial, recreational and commercial matting. The Burgess Matting Wetpour system for Playgrounds is one of the leading playground systems available in New Zealand.
Founded by Alan Burgess in 1951 the business recycled used tyres to produce New Zealand's longest lasting rubber doormat.
Current Managing Director and youngest son of the founder, Russell Burgess attributes the company's ongoing success to an adaptable attitude. Research and development ensures products are what the customer wants and if it is not a stock item Burgess Matting & Surfacing will work with customers to produce the product they require.
Factory Details
Originally one of the old Eastown Railway Workshop buildings, Burgess Matting & Surfacing Limited have been operating from the current premises at 22 Poutini Street, Wanganui since 1993.
Guarantee
All Burgess Matting surfacing comes with a standard one year guarantee against faulty materials and workmanship. Burgess Matting offer a five year guarantee for all playground safety surfacing and even though the warranty will run out, we will still inspect installations as necessary.
"Burgess Matting & Surfacing are very proud of the range of matting available and have many extremely satisfied customers. We have passed the test of time and offer assurances of a high quality installation that present and future users will truly appreciate".
Please feel free to call with any enquiry on 0800 808 570, and we will be pleased to assist you.