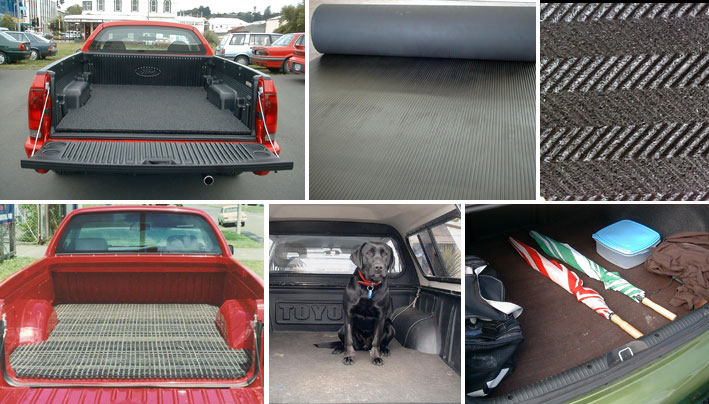 Ute deck matting is a great way to protect your vehicle and cargo. Burgess Matting and Surfacing Limited have a number of options available to hold items in place while the vehicle is moving – stopping things sliding from side to side during cornering.
Suggested areas of use include not only ute mats but calf trailers and safety matting in wet areas.
There are two systems available for the protection of your vehicle and for the excellent non slip properties:
Fibrebond – Herringbone pattern as shown in picture 1 above
Custom made sizes to suit (custom sizes available to be purchased online – see shop listings)
12mm thick
Easy clean and ultra porous
Non slip for tools and animals
Anti fatigue and impact absorbent
Reduces road noise and can be rolled for easy removal
These highly durable mats come in a herringbone pattern and will not rust or rot. They are polymerically bonded to produce a hard wearing, all weather surface.
Honeycomb Ute Matting – As shown in picture 4 above
Recycled rubber strips woven together and made in sizes to suit your requirements. The Honeycomb matting is 19mm thick and forms a network of 25mm square holes. This ensures rapid evaporation of moisture and helps with the elimination of condensation and rust.
No metal fixing is required as the matting weighs approximately 12kgs / m². The matting can be removed by rolling. It is ideal for carrying livestock and suits all makes and models of vehicle. Honeycomb matting can help eliminate road noise, protects your cargo and smartens up the vehicle deck by forming a super tough buffer which minimises denting and scratching.
Features
Non slip and highly durable
Anti fatigue and impact absorbent
Easy clean
Won't rust or rot
100% recycled rubber / Environmentally friendly