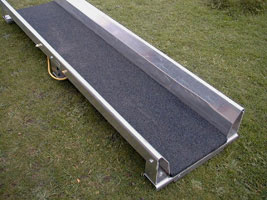 Weigh platform mats reduce stress on animals by reducing the noise caused by hooves on aluminium plate. Animals are more comfortable with entering and exiting the weigh platform and the matting provides a non slip surface even in wet conditions.
The same principle applies to race ramps.
Fibrebond mats are custom made in sizes to suit.  Factory manufactured mats 15mm thick.
Features:
Non slip and highly durable
Anti fatigue
Easy Clean
Impact absorbent
Won't rust or rot
Reduces noise and vibration
See also Hammerblow Matting