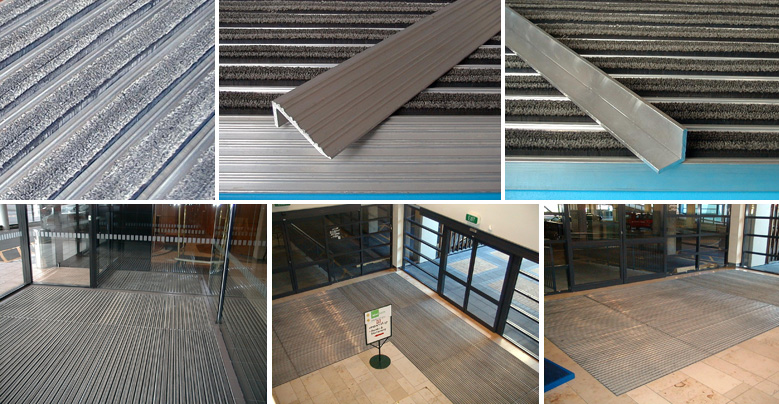 The function of the Nuway Tuftiguard Entrance Matting is to clean and dry footwear soles thoroughly and to provide a safe, cavity free surface which cannot be penetrated by, nor will catch, heels of ladies' shoes.  Suitable for use indoors or in sheltered positions.
Principal Characteristics
The nylon pile surface strips absorb moisture on contact and together with the ridges on the aluminium sections, provide a series of alternating rubber and metal scraping edges.  Dust, mud and grit is thus accumulated below the main surface of the matting on the horizontal surface of the metal sections for easy removal by vacuum cleaning.
Tuftiguard Entrance Matting is double sided and will give you twice the lifetime by reversing it from time to time to equalise wear.  Designed to cater for light wheeled traffic, it is anti-slip and completely safe for use by elderly or disabled people.
The mats can be cleaned in place but occasional removal for more thorough cleaning of both mats and wells is strongly recommended.
Appearance
The pile surface strips are self colour grey and together with the bright aluminium strips, provide an interesting design effect.
Closed  –  No gaps in finished surface
Semi open –  5mm gap in the rubber strip which allows small stones and water to drop through the matting
Open – 10mm gap in the rubber strip which allows small stones and water to drop through the matting
Features
Durable, non slip, quick drying and removable for easy clean
Tuftiguard type C is approximately 17mm thick and requires a matwell of 19mm depth.
Designed for recess or well insulation but can be surface mounted if required
Supplied with aluminium L angle recess or surface mount ramp frames.
Matwells
Matwells should be 19mm deep and the overall length and width of mats (or sets of mats) will be 3mm less than the inside dimensions of the matwell.  Tuftiguard mats are accurately made and cannot be altered on site, hence matwell frames should be similarly accurae.  Matwells should also have a level base.