Custom Made Doormats
Burgess Matting custom made Rebond matting gives you a wide range of choice and we can assist you in choosing the right size and colour so if you do not see what you want in our range – contact us and we can work together to ensure your finished mat is exactly right for your situation.
Call us today on 0800 80 85 70 to start designing your unique doormat with your company logo or the design of your choice.
These mats are porous, have long life expectancy and are highly durable.
The specially designed textured surface allows faster removal of dirt and will enhance all entrance ways. Mats can be permanently fixed and will give a non slip entry.
Suggested areas of use are for domestic areas, indoors and outdoors.
Patterened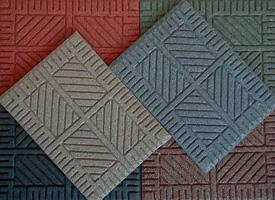 Our Patterned 560 x 405 x 10mm doormat is available in terracotta red, forest green, tan, brown, grey, black, sage and marigold.
The grooves and channels remove stones and water from the surface quickly.
The mat won't rust or rot and has a long life expectancy as well as being highly durable and easy to clean.
100% recycled materials have been used in the manufacture of these mats.
The mats can be used in domestic areas, indoors or outdoors and are suitable for smaller entrance ways.
Slimline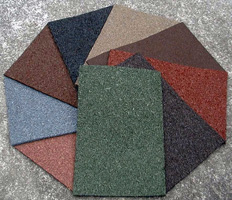 The slimline doormat is available in Black, grey, terracotta red, forest green, sage, grey, tan and marigold.
Size: 685mm x 460mm x 10mm
Made from 100% recycled rubber this highly durable doormat won't rust or rot. It can be used in all domestic areas, indoors and outdoors.
The mat can be permanently fixed, is easy to clean and will enhance all entranceways.
Ribbed Welcome Mat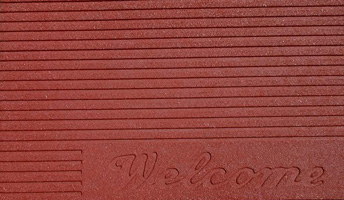 The Burgess ribbed welcome mat measures 760 x 450 x 10mm and is available in Grey, Black, Forest Green, sage, marigold,tan and terracotta red.
The friendly welcome greeting moulded into the mat enhances any entrance.  The horizontal grooves in the mat remove stones and water.
These mats are highly durable and have a long life expectancy.
The welcome mat can be used in domestic areas – Indoors and outdoors
Ribbed Mat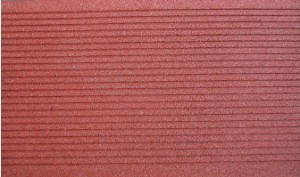 Measuring 760 x 450 x 10mm the Ribbed doormat is similar to the Welcome Ribbed Mat but is ribbed over the complete mat.  It is available in Terracotta Red, Forest Green, Sage, Tan, Marigold, Grey or Black.
The horizontal grooves remove stones and water.  This highly durable mat is non slip and highly durable.
Can be used indoor or outdoor.
Overview
Although usually quite small, a doormat can save you time and money.
The humble doormat removes 80% of dirt, grit and grime that would normally enter your home on your feet before it can be trampled over and into your expensive floor coverings. This saves a lot of time spent cleaning and vacuuming as well as big money on replacing your floor coverings.
Burgess Matting produces a range of quality mats to enhance all entranceways. Most of the Burgess mats are made from 100% recycled rubber and are made to out perform, out last, and provide the best value for money.
Reduce slip and fall hazards with matting for steps, decking, patios and ramps offering safe, non slip and anti fatigue properties.